Skip to Content
mail_outline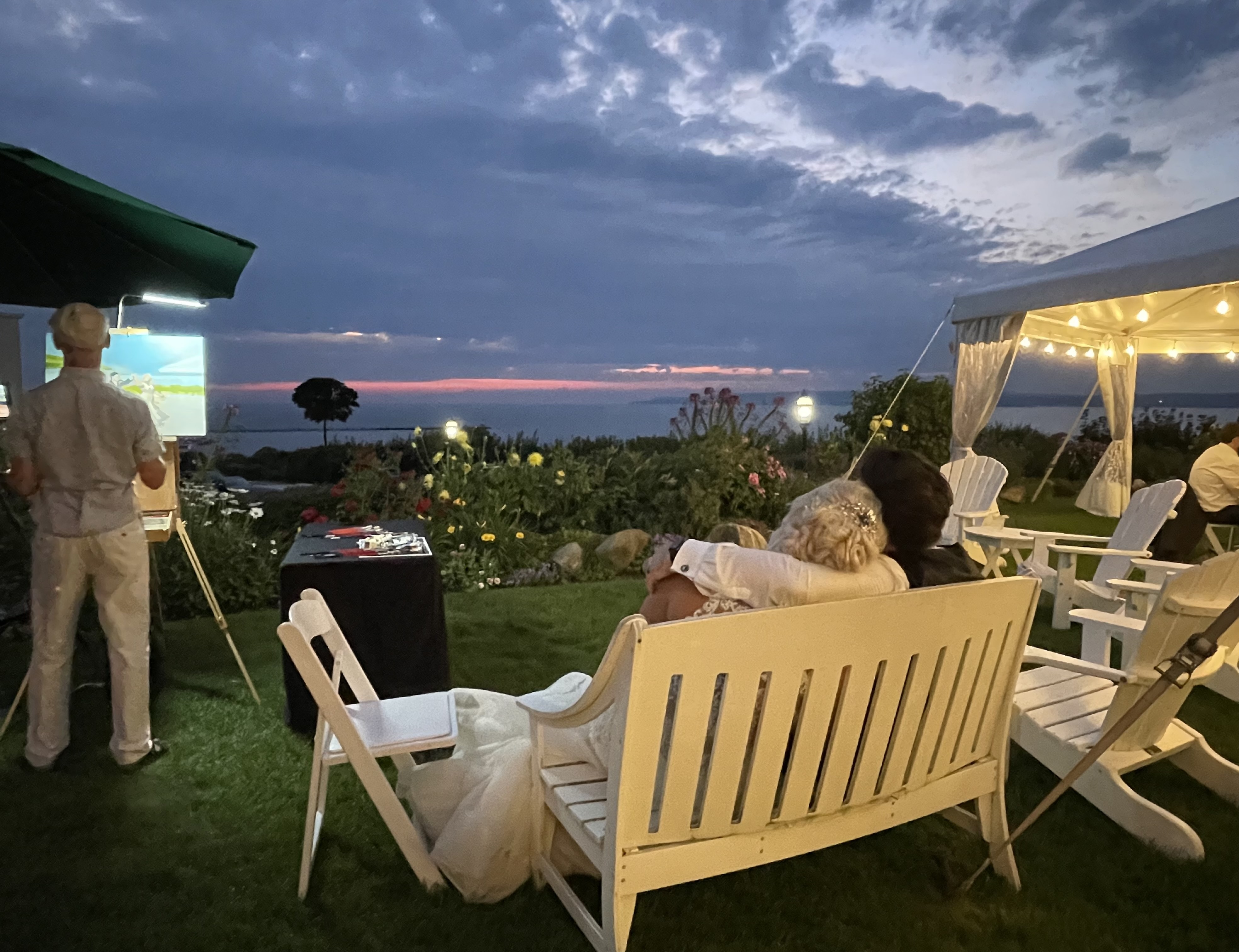 THE EXCITEMENT OF A LIVE WEDDING PAINTING
An Artist At Your Wedding? Having an artist capture a wedding in a painting is not a new idea. In fact, artists have been painting at weddings, detailing each moment, for hundreds of years! From Rousseau to Bruegel, Rossetti to Picasso, married couples and their guests have been memorialized on canvas. It may not be a new idea, but it is unique. Patrick Wise, a fine artist of Patrick Kelly Wise Fine Art, will paint at your wedding – or other celebrations – as he keeps this special art form alive!
How Does it Work? Imagine the scene you want to be captured: the first dance, the ceremony, the 'reveal', cutting the cake, walking in as a married couple, etc. After a phone consultation where you can talk about your ideas, you will receive a questionnaire where you can give more information about who and what you want your painting to include. Take your time in making other decisions related to the painting and include them in your answers. You'll send back the questionnaire so that Patrick has an even better idea of what you're looking for.
As your Special Day gets closer, Patrick or Margie (his Event Coordinator) will touch base to review "day-of details," such as his arrival time, where he will set up, and answer any last-minute questions you may have. Patrick will arrive to your event 2-3 hours prior to the start time so that he may set up and begin the painting before your guests arrive. By the time your event is in full swing, your painting will be, too!
Enjoyment for Everyone! As your guests enjoy the party, they will enjoy watching your painting take shape — blurry lines and shapes begin looking like people you recognize! The setting is filled with flowers, tables, lights, and shadows. You'll see the colors of women's dresses, the folds of men's suit coats, a child's special outfit, sparkling smiles savoring every minute. Patrick will be set up where he can have a full view of what you want to be painted, yet not be in the way of the festivities.
After the Party: By the end of your event, your painting will be complete in an impressionistic style, with the people you want 'in focus' looking how you imagined. You may take your painting with you (or have one of your guests take it for you so that you don't have to worry about it!), or you have the option of having Patrick take the painting back to his studio to add more details. Depending on where you live, within 6-8 weeks, your painting may be delivered in person by Patrick or shipped to you. These details will be decided upon in the planning stage. Either way, you are guaranteed a unique, one-of-a-kind memento of your Special Day.
Favorite Photo Comes to Life: If your Special Day has already occurred and you would like a moment from that day captured in a painting – no problem! Patrick will work from one of your favorite photographs and paint it on canvas in the size you choose. If you already love the photo, just wait until you see it come alive on canvas – there's nothing like it!
For Yourself or As a Gift: A special event painting makes a wonderful gift. Guests often share the purchase as a group gift for their friends or family. A painting is a gift they won't find on a registry! Other ideas: couples buying a painting for their hosts, parents of the couple buying the painting for their children, a portrait of the couple as an anniversary gift, a surprise gift for the love of your life!
Northern Michigan and Beyond: Based in Harbor Springs, Patrick will paint at your event anywhere in Northern Michigan and beyond. If your celebration is going to be as nearby as Charlevoix, Traverse City, Petoskey, Boyne City, Bay Harbor, Harbor Springs, Leelanau (to name a few!); or on Mackinac Island, Beaver Island, or Drummond Island, Patrick will meet you there with his easel and paints ready to create your painting which will last a lifetime!
This post was submitted by Margie Marks of Patrick Kelly Art. For more information about these paintings, please contact Patrick Kelly Wise Fine Art.
Read Other Posts
You can give the gift of the Stafford's experience in two ways. Stafford's Gift Cards are prepared by the front desk at the Perry Hotel and sent by mail to the address you provide for your recipient.
E-Gift Cards are electronically generated and sent instantly to your recipient's email address.