Skip to Content
mail_outline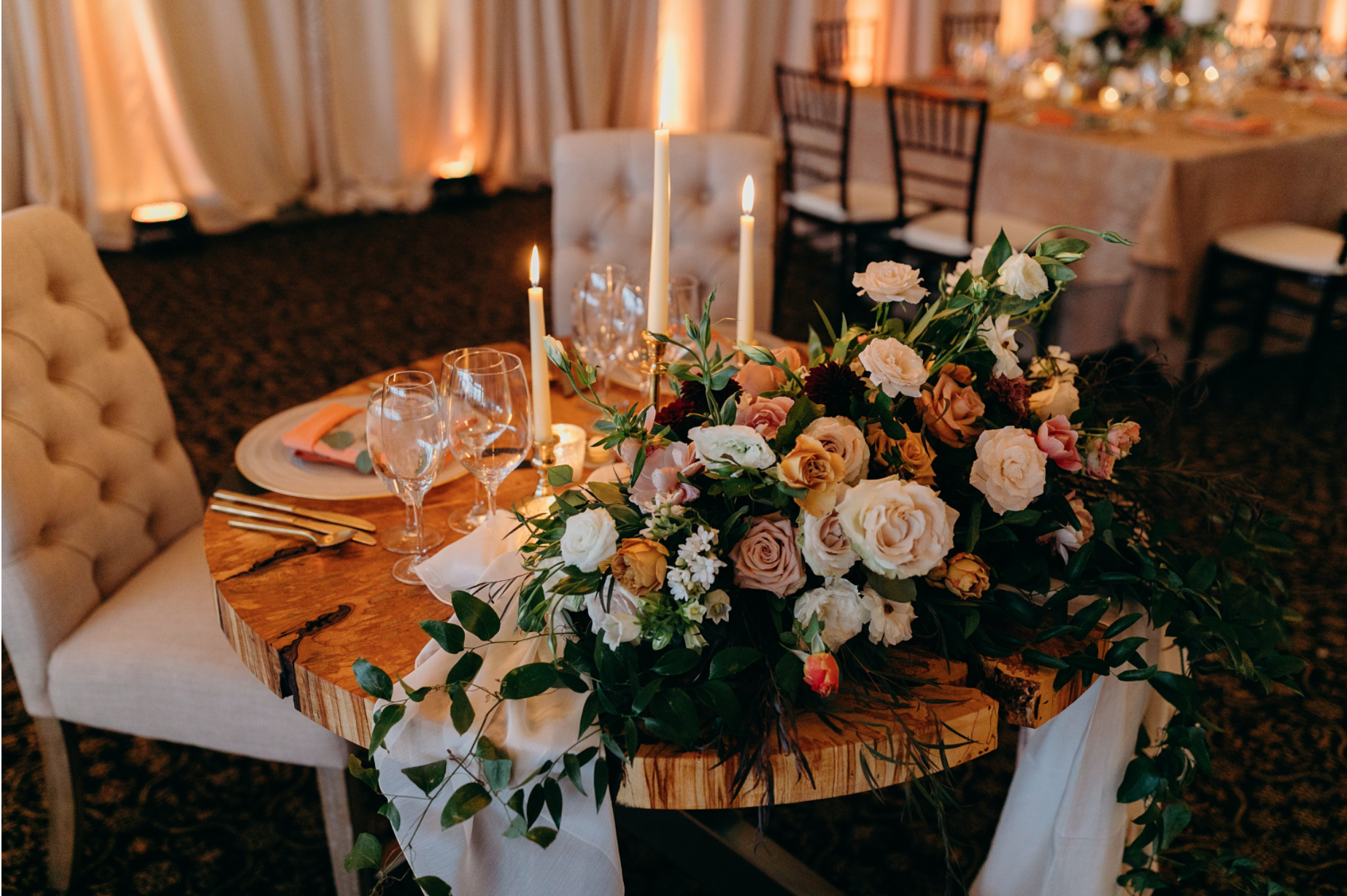 VENDOR SPOTLIGHT: EVENT DESIGN
We sat down with Tableau Events this week, to dive in deeper on how they create and execute extraordinary events. Tableau Events is a boutique event planning and design company servicing luxury wedding clients throughout the Northern Michigan area.
---
Events & Details We Love
Sweetheart Table
I love all the personal touches that go into a wedding, Karly notes. The groom built their sweetheart table himself and transported it all the way from Philadelphia to Bay Harbor! How amazing is that?!?
Photo Credit: Jesse David Green
Floral: Bloom Floral Design
---
Bar Design
We love to elevate the design of the bar at our events. It's a great focal display that all your guests will chat about while they wait for their new drink. At K+J's wedding at Bay Harbor Yacht Club we installed succulent walls to the front of the bar.
This element was incorporated again later on in the night when guests got to take home their own succulent plant as a guest favor.
Photo Credit: Jesse David Green
---
First Dances
We ask our couples during the planning process what their first song is and why they selected it. I love getting to hear about the time this song was playing in the background during one of their relationship milestones.
On the day of the wedding, feeling the overflowing love during the first dance with an added starry sky lighting installation bonus above? Absolutely magical! It gives me chills and happy tears all at the same time!
Photo Credit: Cory Weber of The Weber Photographers
---
The Bridge Wedding
I didn't even know that hosting a wedding underneath the Mitchell Street Bridge was an option until I worked with C+J! It was the perfect urban setting for their ceremony for this Detroit couple before hosting their reception in the Rose Garden with the view of the lake. Best of both worlds!
Photo Credit: Gauper Photo
---
Making The Most Of A Rainy Day
We had the biggest rain storm of the season on the day of S + P's wedding! I love the black and white color to this photo that gives it such a timeless classic look.
S + P were too busy gazing into each other's eyes to even look remotely bothered by any kind of rain. We love our clients that go with the flow and make the most of their wedding day despite the crazy weather that Lake Michigan offers to us.
Photo Credit: Jen Boris Photography
---
Advice to Wedding Couples

Throw tradition out of the window! Don't worry about "well, what have you seen other weddings do in the past?" It's your wedding! Do what YOU want! Plan your wedding with elements that will reflect your own personalities and styles. Want a mariachi band? Want an oversized floral arch welcoming guests into your tented reception? Want a surfboard shipped in from California for your guests to sign? Let's do it!
You want your wedding aesthetic to match who you are as a couple, not what you think your family or friends want to see.
---
About Tableau Events
We believe that the little things become the big things and the smallest intention can make the biggest impression. We strive to make our own signature imprint in everything we do, while creating moments and memories with those that matter most.
Karly Balogh, the owner of Tableau Events, share why she loves this career & northern Michigan. "I discovered the magic of northern Michigan back in 2016 and knew it was the place that I wanted to call home. I worked with the events team at the Inn at Bay Harbor before making the jump over to independent wedding planning with Tableau Events. I transitioned from lead planner to the new owner in January 2020. I am so excited to continue to grow in my role with Tableau!"
When you find yourself strolling through our quaint little downtown district, pop on over to their studio space located a block away from Stafford's Perry Hotel in Penn Park!
Contact Tableau Events
Tableau Events, LLC | Refined Planning + Design
By Appt: 218 Park Avenue, Petoskey, MI 49770
Social: @tableauevents #tableauevents
Web: tableauevents.com
Read Other Posts
You can give the gift of the Stafford's experience in two ways. Stafford's Gift Cards are prepared by the front desk at the Perry Hotel and sent by mail to the address you provide for your recipient.
E-Gift Cards are electronically generated and sent instantly to your recipient's email address.